Library Hours
Monday & Tuesday:
10:00a.m. to 8:00p.m.
Wednesday:
10:00a.m. to 5:00p.m.
Thursday:
10:00a.m. to 8:00p.m.
Friday
10:00a.m. to 5:00p.m.
Saturdays:
10:00a.m. to 2:00p.m.
Sunday:
CLOSED
The TheThTheWith
Due
InInIniiiiiiiiiiiiiiiiiiiiiiiiiiiiiii
Boo
In InInDur t
Merry Christmas!
In celebration of the holiday season, the Wauseon Public Library will be closed December 24-25 and 31-January 1.
If you need to return library materials over the holidays, please feel free to use the drop box in the alleyway between the church and the library.
Book Discussion Groups
Share your thankfulness for books this month by joining one of the Wauseon Public Library's book discussion groups. All of the book discussions are free and open to everyone!
Science Fiction & Fantasy Group
AThe S cience Fiction & Fantasy Book Discussion Group will be discussing "Midnight Crossroad" by Charlaine Harris on January 26 at 6:30 p.m. in the library's second floor Board Room.
According to the book's jacket,
"Welcome to Midnight, Texas, a town with many boarded-up windows and few full-time inhabitants, located at the crossing of Witch Light Road and Davy Road. It's a pretty standard dried-up western town. There's a pawnshop (someone lives in the basement and is seen only at night). There's a diner (people who are just passing through tend not to linger). And there's new resident Manfred Bernardo, who thinks he's found the perfect place to work in private (and who has secrets of his own). Stop at the one traffic light in town, and everything looks normal. Stay awhile, and learn the truth... "
Mystery Group
The Mystery Book Discussion Group will hold its next meeting on Tuesday, December 16 at 6:30 p.m. in the main floor Reading Room.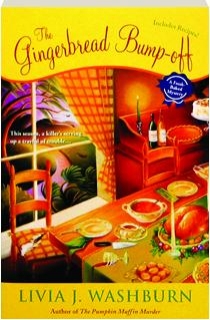 The group will be discussing "The Gingerbread Bump-off" by Livia Washburn.
According to the book's jacket, "As Christmas approaches in Weatherford, Texas, Phyllis Newsom is decorating her house in preparation for the Jingle Bell Tour. The last thing she expects is that one of her ceramic gingerbread men will be used to commit murder...When her friend Georgia Hallerbee asks Phyllis to have her house featured in the annual Christmas Jingle Bell Tour of Homes, Phyllis is equally flattered and flustered. She already has a bridal shower on Christmas Eve and a wedding on New Year's Eve to prepare for, and she's been baking gingerbread cookies like they're going out of style. But like her tasty treats, she rises to the occasion. Before the tour can even get under way, Phyllis hears a crash on her front porch and makes a gruesome discovery. Someone has broken a decorative gingerbread man over Georgia's head. Santa's naughty list just got longer—and with the police baffled, it's up to Phyllis to catch a half-baked killer..."

Multi-Generational Super FUN Book Club
Due to the wintry weather and to avoid long walks to the library in the cold and snow, the Multi-Generational Super FUN Book Discussion Group has morphed into an on-line discussion group. That way, everyone may participate in the winter at their own pace and in their own time on-line. The group will be discussing the first part of Peter Pan by J.M. Barrie. For more information on the group or to join it, please email library volunteer Brittany Mason at brilyn93@gmail.com.
InspirationalInspirational Book Club
Due to many conflicting responsibilities, the Inspirational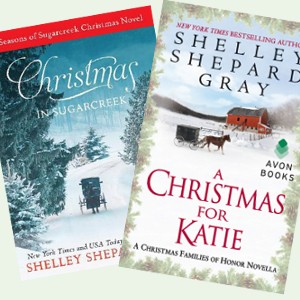 Book Discussion Group is morphing into the Inspirational Book Club with anyone reading and wishing to share their thoughts on this month's Inspirational Read--"A Christmas for Katie" by Shelley Shephard Gray, leaving their thoughts and comments on the Comment Cards inside the books. The comments will then be incorporated into a conversational display for library patrons to enjoy.
According According to the book jacket, " "It isn't easy to be Katie Weaver. Her sister-in-law Ella is about to have a baby, making Katie an aunt for the second time . . . and she's only six and a half! Plus, her favorite librarian, Miss Donovan, seems sad. She won't even fix up the rundown nativity in front of the library in time for Christmas. Then, an old woman is attacked outside the library, and, one by one, the nativity figures start to disappear! Luckily, there's a new deputy in town, Connor Fields. He takes a real liking to Miss Donovan . . . and he promises to find the missing nativity pieces for Katie. Now, all Katie has to do is pray that Ella's delivery goes well and that some kind of nativity is in place for Christmas Eve. Oh, and that Miss D. falls in love with Connor. Katie knows from watching her three brothers that it makes people real happy. And that would be a Christmas miracle indeed!"
The library has ordered copies of all of the book discussion books, so each group member may have one. Please stop by the library, and pick up your copy today. For more information on the book discussion groups, call the Wauseon Public Library at 419-335-6626 or email amy.murphy@oplin.org.