Library Hours
Monday & Tuesday:
10:00a.m. to 8:00p.m.
Wednesday:
10:00a.m. to 5:00p.m.
Thursday:
10:00a.m. to 8:00p.m.
Friday
10:00a.m. to 5:00p.m.
Saturdays:
10:00a.m. to 2:00p.m.
Sunday:
CLOSED
The TheThTheWith
Due
InInIniiiiiiiiiiiiiiiiiiiiiiiiiiiiiii
Boo
In InInDur t
Book Discussion Groups
Fall into a good book at the Wauseon Public Library. All of the book discussions are free and open to everyone!
Science Fiction & Fantasy Group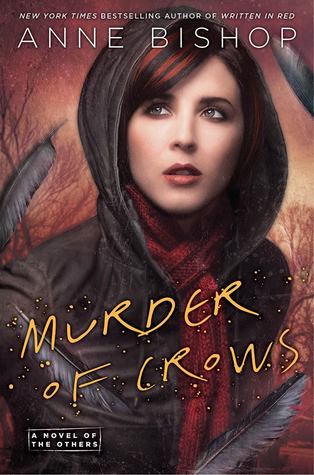 A The The The S cience Fiction & Fantasy Book Discussion Group will be discussing "Murder of Crows" by Anne Bishop on October 30 at 6:30 p.m. in the library's second floor Board Room. PLEASE NOTE the rescheduled date for the discussion.
According to the book's jacket,
"After winning the trust of the terra indigene residing in the Lakeside Courtyard, Meg Corbyn has had trouble figuring out what it means to live among them. As a human, Meg should be barely tolerated prey, but her abilities as a cassandra sangue make her something more.

The appearance of two addictive drugs has sparked violence between the humans and the Others, resulting in the murder of both species in nearby cities. So when Meg has a dream about blood and black feathers in the snow, Simon Wolfgard—Lakeside's shape-shifting leader—wonders if their blood prophet dreamed of a past attack or a future threat.

As the urge to speak prophecies strikes Meg more frequently, trouble finds its way inside the Courtyard. Now, the Others and the handful of humans residing there must work together to stop the man bent on reclaiming their blood prophet—and stop the danger that threatens to destroy them all. "
Mystery Group
The Mystery Book Discussion Group will hold its next meeting on Tuesday, October 28 at 6:30 p.m. in the main floor Reading Room.
The group will be discussing "Unlucky 13" by James Patterson.
According to the book's jacket,
"San Francisco Detective Lindsay Boxer is loving her life as a new mother. With an attentive husband, a job she loves, plus best friends who can talk about anything from sex to murder, things couldn't be better. Then the FBI sends Lindsay a photo of a killer from her past, and her happy world is shattered. The picture captures a beautiful woman at a stoplight. But all Lindsay sees is the psychopath behind those seductive eyes: Mackie Morales, the most deranged and dangerous mind the Women's Murder Club has ever encountered. In this pulse-racing, emotionally charged novel by James Patterson, the Women's Murder Club must find a killer--before she finds them first."
Inspirational
Inspirational Book Club
Due to many conflicting responsibilities, the Inspirational
Book Discussion Group is morphing into the Inspirational Book Club with anyone reading and wishing to share their thoughts on this month's "Inspirational Read," leaving their thoughts and comments on the Comment Cards inside the books. The comments will then be incorporated into a conversational display for library patrons to enjoy.
According According to the book jacket, "Karen and Val are family--yet they're anything but close. Karen has carried the burden of responsibility for her aging mother ever since her gorgeous sister left town years ago to pursue a career in theater. But Val had darker reasons for leaving town--as well as a secret to keep--and coming home has never been an option . . . until their mother suffers a stroke."

The library has ordered copies of all of the book discussion books, so each group member may have one. Please stop by the library, and pick up your copy today. For more information on the book discussion groups, call the Wauseon Public Library at 419-335-6626 or email amy.murphy@oplin.org.